Your pregnant friend has got a lot of thing going on in her hands at the moment, and in her belly also. Even though it might not seem apparent sometimes, she and her body are working 24/7 to producing that little being of joy that takes nine months is the making.
Your friend is about to become a mother and you can show her some appeciation with a little gift that means a lot to her coming from someone close with an intention to make her day brighter. There's lots you can get to her, take a look at what we recommend as the best options.
Flexibility is an important part of preparing for delivery, so Mirafit's yoga mats are the perfect gift. Available in three designs (forest, sunset and water) the mats are velvety soft to touch, lightweight and environmentally friendly. Whether your friend is a seasoned Yogi or an absolute novice, these unique mats are the ideal accompaniment on her prenatal yoga journey.
I would recommend buying your pregnant friend something they'll cherish forever: a belly cast kit to make a mold of their baby bump! It's the one thing I wish someone had purchased for me while I was pregnant, as I never made one and regret it. Once pregnancy is over, it's easy to forget what the process was like or what even you looked like! If I had a belly cast, I feel that'd bring back wonderful memories for me. It's a cool keepsake to have and to be able to share with your child when they're old enough to understand!
Motherhood is ripe with blessings, but time, unfortunately, isn't always one of them. Balancing the desire to provide the best for their families and tend to their own needs, today's moms will find comfort and support in these quick and easy Mindfulness for Moms tracks. Makes a great baby shower gift!
What better way keep track of your pregnancy than with a photo frame that contains three compartments to commemorate each trimester of your friends' journey. This will make a perfect nursing room decoration to display your pregnant friend's trimester ultrasounds and celebrate the arrival of her new addition.
Pregnancy is a nine-month journey that your pregnant friend is going to want to remember. This pregnancy journal contains guided sections to help your pregnant friend capture every moment from finding out that she was expecting to feel that first kick. It's the perfect place to store those unforgettable memories.
Hooray New Baby! is here to help you record the true story of your baby's important first year, so memories are never fuzzy. Written and designed by illustrator Veronica Dearly, this book is filled with prompts and exercises that encourage you to write the story of your new baby.
This baby book goes from being an exercise in maintaining your sanity to a sentimental keepsake of frank, sweet observations about that special first year of your baby's life as you fill its pages. As functional as it is hilarious, Hooray New Baby! is a wonderful way to remember year one of parenthood, so you don't lose it along with your mind.
The gift of SELF-CARE is vital for NEW MOTHERS! Did you know that postpartum care is the oldest and most well-documented traditional use of the practice of vaginal steaming? Leiamoon is the #1 provider of premium, organic, vaginal steam herbs for women. Enjoy the soothing, aromatic bliss of a postpartum steam with our hand-harvested, solar dried blend specifically crafted for vaginal steaming.
Feel confident and capable as a mom-to-be with Your Strong, Sexy Pregnancy: A Yoga and Fitness Plan. Desi Bartlett, founder of the popular Mothers Into Living Fit program and trainer to celebrity clients Alicia Silverstone and Kate Hudson, guides you through your pregnancy. A truly fit, confident mom is created from the inside out. Let Your Strong, Sexy Pregnancy teach you how to prioritize your health and happiness, cultivate your inner power and be a fierce, strong, sexy mom!
Luxor Linens` luxury bath robes are the perfect gift for a pregnant friend. Check out our favorite robe below! They are luxurious and you can add a personal touch of custom monogramming Mom Mama Mommy or whatever you wish to have monogrammed on it!! Plus we offer luxury gift packaging!
I think this book speaks to the struggles of modern motherhood in a very real way. It's short, to the point, and from a unique perspective, which is exactly why mothers need to see it- especially those having their first baby!
As a female run startup, we source many of our products from other small and women-owned businesses and only aim to do more of this! So when you're supporting Happy Box, you're supporting dozens of other women-owned and local shops, helping getting them more exposure in the market. We love our fellow female founders!
This Foaming Organic Baby Wash and Shampoo is a best-seller from baby skincare and diapering brand MADE OF, a company known for putting organic formulation, ingredient transparency and sustainability first. MADE OF gives parents an open look into their ingredients, formula and manufacturing locations – all of which can be found in a few clicks on their website. Their products are vegan, non GMO, gluten free and pediatrician and dermatologist tested, and all made safely in the USA.
EMF radiation emits from all mobile electronic devices, like cell phones, laptops, and tablets, as well as WiFi routers and even baby monitors! This radiation has been proven to have adverse health effects after extended exposure, especially for pregnant women and children. DefenderShield sells products that offer EMF protection from this technology.
Our EMF Radiation Protection Blanket is perfect for pregnant women, since the effects of EMF radiation are even more pronounced in unborn babies. The blanket is made of organic bamboo, and has our EMF shielding material interwoven inside the fabric to block up to 100% of radio frequencies that come from all wireless devices.
Life on the go with baby just got easier. The NURSH Storage Bun helps you to keep your NURSH pouch and nipple fresh and ready for you to use. Take along one NURSH Bottle Shell with two stocked Storage Buns and you'll have three clean bottles that take up way less space. It's great for pacifiers too! Best yet, no more frantic searching through the diaper bag for a fresh bottle nipple or pacifier only to discover it covered in cracker crumbs.
With NURSH Milk Storage Lids, your favorite bottle becomes a convenient way to keep milk or purees ready until you need them. Simply twist on one of these handy lids and store in the fridge or freezer. When baby's ready, heat as desired and then add your normal NURSH nipple. Ready to serve!
It's the best thing to happen to feeding since nipples. The revolutionary air-free feeding design of our NURSH™ Silicone Pouch Bottle feature a 100% silicone pouch that collapses as your little one drinks, squeezing out the nasty gas-inducing air that causes colic. No straws, vents or valves here—so it's a snap to clean and assemble. The silicone can even be boiled, sterilized, microwaved, and frozen. Boobs, you've met your match.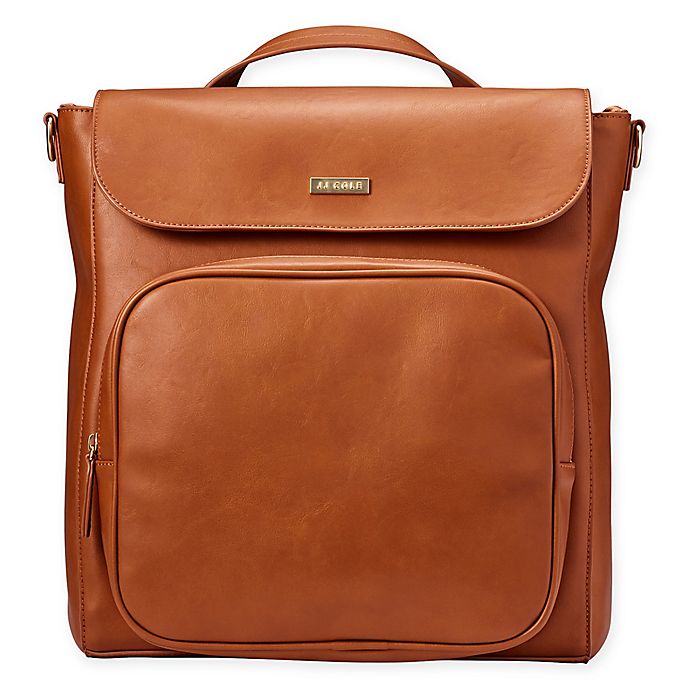 Looking for sleek style, filled with purpose? The Brookmont Diaper Bag is a diaper bag you'll want to wear, even after your baby has left diapers behind. This cleverly designed bag lets you carry everything you need to keep baby fresh and fed without sacrificing style or function. Crafted from premium, 100% vegan leather, it features 15 handy pockets designed with parents and all their gear in mind.
Pregnancy is a roller coaster of emotions mixed with a side of heartburn, backaches, and lots and lots of peeing. You can't control when baby will decide to come, but you can prepare your mind and body for birth with this organic Labor Prep Tea. Packed with red raspberry leaf to strengthen and tone the uterus while nettle and alfalfa help build a healthy blood supply, you know you'll be ready for the big day.
This is an award-winning product that mimics the noise of being in the womb that keep moms from having to make the shush noise repeatedly.
These pacifiers grow with the baby as they start teething. They are stylish, soft and easy to find in a bag.
These Christening gowns are a beautiful, practical gift for a mother-to-be!
Toora Loora is a subscription company for baby clothing. New parents can save time and automatically receive shipments of the latest styles with sizes that grow with their child. A perfect gift for expecting moms, eliminating one more thing to keep track of once baby arrives! Not to mention, the clothes are super cozy, soft and sophisticated. A must for expecting moms.
Pregnancy boxes from Sunflower Motherhood include everything expecting moms need to maximize comfort, joy, and wellness during those nine precious months. These carefully and lovingly curated gift packages promote self care and relief from common pregnancy ailments – from morning sickness to back pain – all wrapped up in a beautiful package that's ready to gift to your favorite mama-to-be!
Contributors to this article
This post contains affiliate links. Affiliate disclosure: As an Amazon Associate, we may earn commissions from qualifying purchases from Amazon.com and other Amazon websites.