Your girl, your crime partner, other half, your backbone, etc. When it is all said and done you can only choose one partner to stand side by side with you for the rest of your life, so you better choose correctly and then show some appreciation to her for having your back!
And nothing else says "I appreciate you" more than a luxurious, high end gift. Have no idea where to start to search for the right one? Here we got a list to help you:
This product was recommended by Ellis James Designs from Ellis James Designs
The Travel Jewelry Keeper has been carefully crafted for the woman who loves traveling in style. It's the perfect setting for their beautiful jewelry.
This product was recommended by Caleb Backe  from Maple Holistics
Whatever season it is, toes are cold early in the morning. Especially if you blast the AC. This will be her new favorite accessory. She may even bring them to work to wear around the office. Either way, she'll love them!
This product was recommended by Ana Rojas from Comfy Commuter Travel Products
This customized travel pillow communicates love and specialness. Women love to be comfortable and they love to be considered unique making it the ultimate luxury gift. This pillow is unique to each person and can be customized with a message, name and choice of fabric.
This product was recommended by Etho Maria from Etho Maria
Playful, yet sophisticated, the Diamonds in Red Collection pushes the boundaries of high jewelry innovation – a youthful and flirtatious collection only Etho Maria can imagine. Inspired by the intense emotional power of the color of red. The Diamonds in Red Collection embodies a passion for life, love, and a distinct affinity for fashion.
This product was recommended by Carrie Pearson from Virtail
The Orogold 24K Gift Hamper is more than a treasure as it comes packed with finely gilded products to make a world of a difference to the one who receives it. Deliver that special moment to someone now!
This product was recommended by Elizabeth Vaughan from Luxury Home Collection (soon to be Home Couture Collection)
You will wonder how you ever lived without this sumptuously soft pillow! The color is the perfect taupe shade.
This product was recommended by Elizabeth Vaughan from In-Site Interior Design: Luxury Home Collection (soon to be Home Couture Collection)
This Designer Package includes all of our favorite items that will transform your space in a flash! In-Site's designers have carefully selected the items within the Classic Revolution Collection that have big impact, fashion-forward design and provide quality home decor.
This product was recommended by Shamila Nduriri from Dalasini
Give the gift that gives back. Inspired by the endangered majestic African elephant, at least 10% of proceeds of the Dalasini Selous Gold Elephant Pendant Necklace goes toward conservation efforts
This product was recommended by Esme Hecht from Ritzy Couture
Life is too short for ordinary jewelry. Ritzy Couture by Esme Hecht is designed to make you smile, create a conversation piece, and express true testimony to your individuality. Whether worn by itself, as sets, or mixed and matched, Ritzy Couture makes a unique impact, as unique as the women who choose to own it, wear it, and collect it.
Designer Esme Hecht uses his unique sense of humor, style, wit, and vision to create wearable vignettes, with the intention of reminding everyone that life is short and it's so important to have some fun! Hecht's original thematic designs are wonderfully oversized, double-sided, uniquely hand colored, handset with crystal, and embellished with semiprecious beads and rhinestones.
Whether you're searching for the perfect gift for that special someone or looking to treat yourself, Ritzy Couture has a piece for every style and taste. From their simplistic White Enamel Pendant Set Necklace to their fierce Rhinestone Multi Color Leopard in Goldtone, Ritzy Couture offers a wide variety of unique jewelry pieces that will have you looking and feeling good.
This product was recommended by Tanisha Colon-Bibb from SSY Designs
Shoe Jewelz are unique handmade pieces designed specifically for footwear. With over 100 styles you simply slip the band over any shoe— letting you swap styles instantly, creating new combinations for every occasion. Shoe Jewelz are the perfect reusable accessory to bring some style and luxury to those pair of shoes that have been collecting dust in your closet or the new luxury shoes you splurged on that need a little extra sparkle.
This product was recommended by Blix Bike Team from Blix Electric Bikes
With sustainability, fitness, and wellness on just about everyone's mind these days, adding an Aveny Step-through electric city bike to your lifestyle is a great option! Whether you are commuting daily to the office, finishing chores, or heading out to a lunch date, an electric bike can get you there without traffic or parking issues! With pedal assist and throttles, you can step off the bike looking just as fresh as when you stepped on.
This product was recommended by Orion Brown from The Black Travel Box
This starter box is the perfect gift for the avid soul traveler and naturalista. Their balms and bars are TSA friendly, filled with natural, rich emollients including shea butter and jojoba oils, and smell heavenly.
This product was recommended by Heather Logrippo from Mom Bombs
Mom Bombs are a great gift for ladies who love to relax! Mom Bombs are Vegan, Organic, cruelty free and made in the USA. Our Classic Box Set contains six bath bombs, each with a different scent. Each bath bomb is filled with essential oils, including Argon oil, that makes skin feel soft and moisturized. A Classic Box costs $29.99 and $5 from each box goes to the charity mombombs.org to help moms going through a tough time!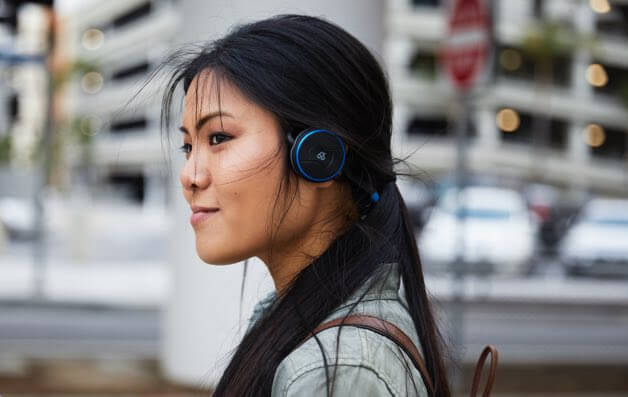 This product was recommended by Vanessa Gomez from 66 Audio
She'll love that she can listen to her favorite music, and make her life easier with Amazon Alexa Voice recognition, she won't even have to lift a finger. With 40+ hours of continuous listening, and paired with the motion control app for a personalized music experience, she'll never take off her new high tech headphones.
This product was recommended by Susanna Williams from Hair Loft Studio
Give her the gift of luxurious soft hair and amplified volume, with a product that generates body while locking in moisture. The L'incroyable Blowdry family of products by Kerastase is ideal for styling hair any way you see fit. This product was created for normal to thick hair and the application is a breeze. Simply apply a quarter-size amount into your palm and then massage it through towel-dried hair. Its heat-sensitive technology enables your hair to set in any style you desire. If you want to get her the best in hair care, look no further than L'incroyable Blowdry Creme.
This product was recommended by Valeria Weber Williamson from Do a Shot of Yoga
A Do a Shot of Yoga subscription provides inspiration, information, and community to women who know they need yoga but don't have the time. The monthly box includes yoga books, props, essential oils, healthy treats, and access to a private yoga FB community plus unique digital content designed to amplify the theme of the box. A great gift for the woman in your life who needs some happy mail each month!
This product was recommended by Sorab & Roshi from Sorab & Roshi (fine jewelry)
Sorab & Roshi's carved green Tourmaline & Turquoise one-of-a-kind Earrings are a special gift for today and a treasure for tomorrow.
"Ang is a label for Very Pretty, Chic & Unique Stationery & desk accessories
Ang is known for crisp colour, graphic prints and playful sophistication, reflected in the stationery, desk accessory and diary range. If you love bright, well-designed stationery with a lady-like appeal, you'll find something to love in this range."
This post contains affiliate links. Affiliate disclosure: As an Amazon Associate, we may earn commissions from qualifying purchases from Amazon.com and other Amazon websites.