Young or old, unicorn love is real, and these top gifts are perfect for those who appreciate these majestic creatures.
Let them show off their passion with a huge plushy unicorn to adorn their bedroom. Other ideas are equally cute, with those high-quality unicorn bracelets and necklaces a true favorite of ours.
Fans of different things always love that their interests are heard, so surprise a unicorn lover you know with some really quite adorable gifts from the list below!
"Kids can put these goggles on by themselves with no need for any adjustments. Don't pull your hair or hurt the nose bridge. Safe for kids and the environment. Can be personalized with names or initials. Fun, colorful designs to make your kid stand out in the pool.
These cool looking Neoprene swim masks are sure to put a smile on every face and allow the kids to go undercover, underwater.
Made from soft Neoprene on the outside and textured rubber on the inside for ultimate comfort, great traction and great hold. Unique patented design.
Comes in 3 sizes to fit all: Munchkin Goggles fit toddlers 6 months to 2 years, Junior Goggles fit children 2-10 years and Young fits teens to adults."
This gift is great because people of every age love it. While the large one is the biggest hit, the medium and small unicorns are too cute to pass up. You can fill up an entire room with them!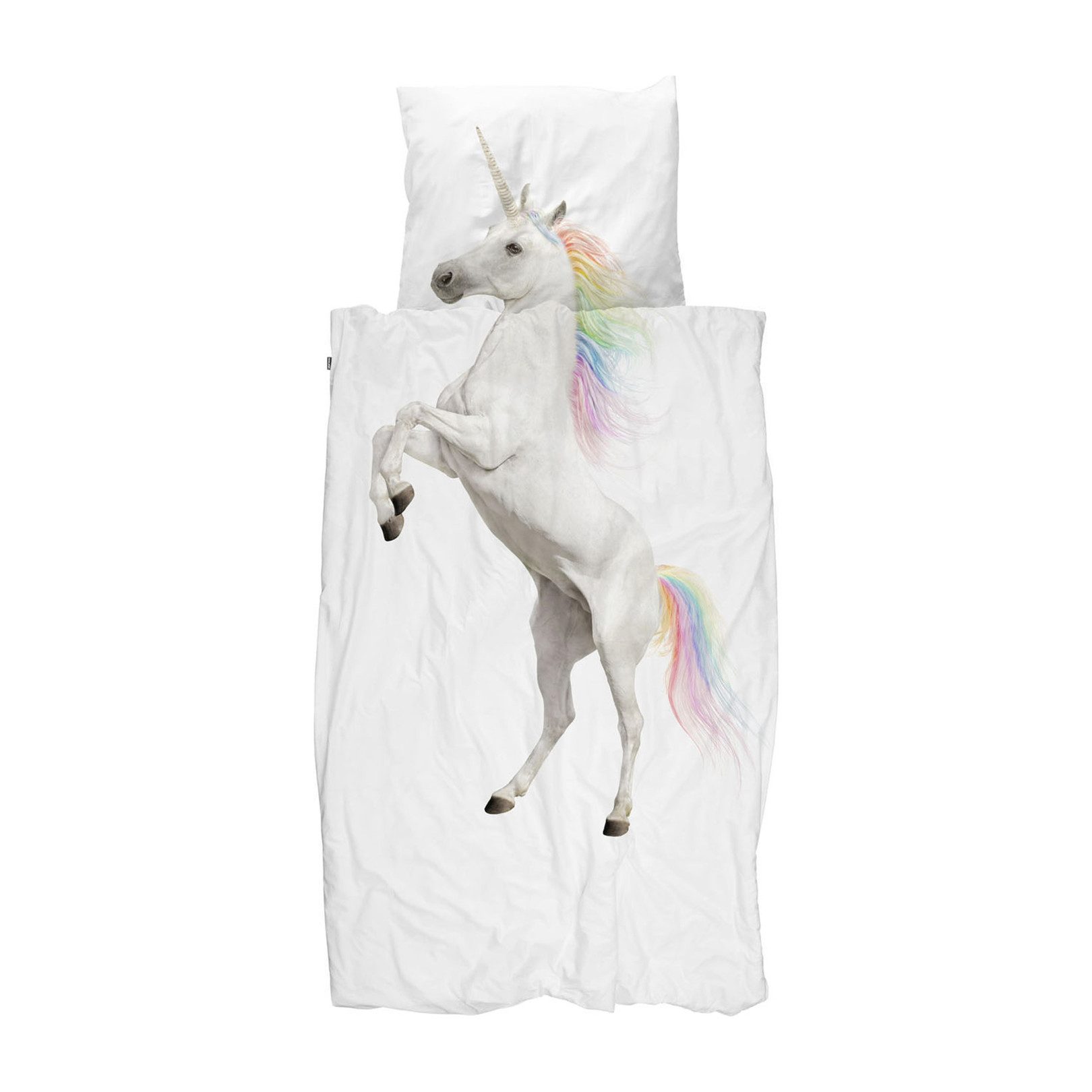 SNURK (Dutch for snore) is designed in Amsterdam, made in Portugal and was founded in 2007, but has made its way stateside in 2017. With a mission to make bedtime fun, each print is an originally designed silk screen on 100% Percale 180 thread count cotton from Portugal.
Everywhere you look there are unicorns. This once rare and mythical animal is now a staple of the high street with unicorn toys everywhere.
Adored and demanded by girls (and ladies) who want unicorn birthday gifts or decorations. You will find these beautiful creatures adorning everything from jumpers to nails, lights to coffee mugs. Therefore, we indulged Scentsy fans and created a unique range of Unicorn Gifts.
Like star dust glistening on fairy wings, little girls dream of magical things. Don't ever let anyone dull your sparkle, always be a Unicorn!
The Unicorn Kisses Personalized Necklace is magically hand made in our studio of fine silver and accented with 22kt gold and a sparkly Swarovski Crystal of your choice. Sterling silver chain, charm measures approx. 1 inch. Up to 10 characters for personalization.
A great companion to your necklace might be a Unicorn Kisses bracelet! Complete the look with this gift!
The Unicorn Kisses Personalized Bracelet is magically hand made in our studio of fine silver and accented with 22kt gold and a sparkly Swarovski Crystal of your choice. Sterling silver chain, name plate measure approx. 1 1/4inch. Great choice for around $70
Life gets difficult for the little unicorn Rhonda when, early one morning, she comes across 'The List of Unicorn Requirements'. Rhonda sets to work to achieve the perfection demanded of unicorns by that mighty list. Requirements that include making wishes come true, having awesome hair and producing rainbow glittery poop. Rhonda and her loyal friends put their best efforts into making her shine from head to toe. But does it really work?
Jump into the happy, friendly world of Rhonda and her buddies to find out if their struggles can turn Rhonda into the perfect unicorn! A thought-provoking and timely tale about the power of what happens when others' ideas of how we should be in the world devalues the ideas we hold for ourselves. Rhonda the Unicorn is originally and attractively illustrated throughout.
John wants to find a narwhal to get the tusk with its protruding canine teeth so he can save his wife. His daughter, Luna, refused to believe that her father was a monster and went after him. Once she fell into the water, the narwhal saved her life and then the magic happened…
Unicorns: Reality or myth? History suggests they were once real; Socrates described them; Julius Caesar wrote about them; and they are mentioned in our Holy Bible – AS FACT, NOT FICTION. The author has combined her great love of horses, magic and history in order to bring to life her first compendium of short stories featuring Unicorns.
Her belief in the power of the Universe and her own spirituality depicts the Unicorns as serving a higher power whilst imparting the teachings and wisdom of a compassionate and spiritual nature. It is hoped that the Unicorns can change – very slightly – our perception of this world whilst truly helping readers to become All That You Can Be.
Contributors to this article
This post contains affiliate links. Affiliate disclosure: As an Amazon Associate, we may earn commissions from qualifying purchases from Amazon.com and other Amazon websites.