Music lovers have got special types of brains. Their neural connections are wired in a way that what inspires them can be easily put together like a string of musical chords that bring to life their vision of the representation of the inspiration itself in audible form.
Which is to say that they are very good at making rhythms in their imagination and bringing them to life spectacularly. Anyway, someone with such special skills surely has a particular special preference regarding what they'd appreciate as gifts. Very specific things are what they're into.  Specific things such as the ones that make up this list.
From Ola of J'adore le Decor: A High Tech Solution for Your Vintage Speakers. True audiophiles perfer the sound devices of the past for their superior quality. I recently purchased a simple $20 device from Amazon that allowed my husband to convert his vintage speakers into bluetooth enabled powerhouses. This small device, manufactured by Logitech works wonderfully!
Original article: A High Tech Solution for Your Vintage Speakers
If your loved one loves singing, this home karaoke system would be the perfect gift! This system comes with 3 different settings from beginner to pro and is designed to make you feel like you are in a concert and recording studio. With more than 300 effects, it is no wonder that its the only karaoke set that has been featured on many huge shows like Shark Tank and The Ellen DeGeneres Show.
The Award-winning music veteran Richard Wolf came to meditation (as have many musicians) with a need to maintain his health under the stress of being a success in a very creative and challenging industry. What he discovered, was a natural convergence of mindfulness and music. As a musician, he discovered that the key to music practice deepened his ability to meditation as a practice. He found a BRIDGE!
This book offers a well crafted guide that is music-based and packed with interesting stories with familiar names, Kendrick Lamar, J.Cole, Miles Davis, Paul McCartney … each woven into stories about stress in success and how the practice of mediation helps to sooth that inner anxiety. This book brings the reader new and thoughtful passages to bookmark, from the art of deep listening to sympathetic vibrations and silence.
Yes. Even silence is important to the craft of creating music. Learning from the mind of a music veteran like Wolf is a pleasurable journey toward meditation practice that can bring joy harmony with the self.
Learning to Speak Guitar: A Luthier's Thesaurus explores the spaces between the notes while shinning a light on many of the guitar community's toughest questions. Give the gift of understanding and invite your music lover to enjoy a more fruitful relationship with their technician and their guitar.
For music lovers who love to travel, you need to get this foldable acoustic guitar for them. The proprietary patented folding neck-hinge system allows travellers to keep their guitar compactly into a double boxed bag. On top of that, many reviewers have said that the sound is amazing and stays in tune even after folding and unfolding it multiple times.
This is a handy wallet that also holds a guitar pick for the guitar players out there.
NoteBlaster is a retro-arcade inspired video game that takes users on a musical journey through space. Using the piano keyboard and drum pad interfaces, users can blast notes to their heart's content as they boost their proficiency with the musical language. Players can choose from all clefs, making it the perfect tool for musicians of all types.
This glass can fit a whole pint of beer in it. It was handblown and embedded with a real guitar pick. You can choose from four different colored picks. It's great for the music lover in your life. It also comes with a 100% satisfaction guarantee.
If you've got a group of friends that feel they know the world of music, then quiz them with this game! It can be played by 2-12 players and lasts about 45 minutes. The questions are based on the late 60s until now. It comes with 400 multiple choice questions.
With a wealth of showbiz anecdotes, delivered with fluency and grace, Doof Doof is a vivid and engaging portrait of a successful composer, entrepreneurial businessman, earnest educator and committed family man. Simon May is one of the most successful and celebrated composers for television the UK has ever produced.
Best known for writing the EastEnders theme – whose evocative drum beat gives this book its title – Simon's long and impressive list of TV themes includes the 1980s smash-hit drama series Howards' Way, as well as such perennial favourites as Holiday and Animal Park. In Doof Doof, Simon describes the creation of these works, and the success they brought, with self-deprecating humour and the sharp eye of the true professional.
Jim Toomey was already a successful drummer when he became a part of a new group, The Tourists, in the late seventies. He formed the group with Annie Lennox, Dave Stewart, Peet Coombes and Eddie Chin. From their early beginnings in London, finding their sound and their voice, through their success, their recordings, TV appearances, and their tours across the world, this is the story of The Tourists, told by the man sitting behind the drums.
In a series of anecdotes and tales of the band's journey, we gain insight into the inner workings of a successful band; the fun and success, but also the work, the creativity, the pressures of seemingly endless tours, the good and the bad sides of the business, and the all too familiar trajectory of a band which sowed the seeds of music which endure 40 years later.
Peter Tryon's Confessions of a Piano Tuner is a charming, autobiographical tale of life spent travelling around rural East Anglia tuning pianos. But this is also a personal account from boyhood of how music and more specifically the mechanics of that wonderful instrument, fired early imagination and gave rise to a lifelong fascination and involvement with the piano.
As much a social commentary on people, the anecdotes about different characters are filled with humour and the text is light and easy to read. The unspoiled beauty and charm of East Anglia provides a perfect backdrop to Peter Tryon's account, all combining together to make this a book that you won't want to put down.
The Most Advanced Clarinet Book is a collection of exercises, explanations and philosophies. Most are the author's original ideas as a result of experimentation and a few are those of his teachers. They attack the structural deficiencies of the instrument and idiosyncrasies that are necessary to master in becoming an accomplished player.
Jammy Packs are perfect for all our favorite outdoor activities. We haven't gone skiing this winter without The Drop's fanny pack strapped to our hips, and we can't wait for hiking, biking, and beaching this summer to all of our favorite beats.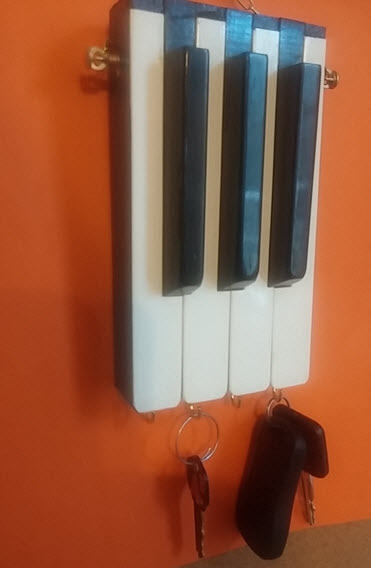 A unique gift for the music lover, lovingly hand made one at a time in our shop in Maine. They are made from actual piano keys.
Contributors to this article
This post contains affiliate links. Affiliate disclosure: As an Amazon Associate, we may earn commissions from qualifying purchases from Amazon.com and other Amazon websites.