The exhilarating and endurance-based sport of cycling relies as much on the cardiac resistance of your physical condition along with the control over your own adrenaline levels. You can't just simply go full speed as if it was putting the pedal to the metal in a car.
The overall, and admittedly simple, way you are supposed to go about the sport (you just get up on your bicycle and pedal away) is one that is very open towards improvement. Improvement as in getting some clever gadgets to help you at it. There are some really cool gadgets made for cycling that smooth out small parts of to enhance the whole deal in small but notable ways, check them out.
Vena's 6Netic Magnetic Bike Smartphone Mount is perfect for cyclists who want to stay connected for hands-free phone calls, music playback or navigation. It is one of the first magnetic mounts in the market to offer the option to mount an action camera or a compatible light. The Vena mount is lightweight yet sturdy in design to ensure security for devices while bicycling on rough terrain.
Bluetooth earbuds that don't cut off your peripheral hearing! By passes your eardrum and you listen to the music via the bones in your head.
Bluetooth, water-resistant headphones designed for being on the go! With their ergonomic design and powerful high quality sound, ATH are perfect for outdoor exploring or urban adventuring.
ATH lets you stay tuned into the world around you, while never missing the beat. The innovative bone conductive technology bypasses your ear drum, feeding sound directly into your inner ear through vibration. This frees your ears for taking in the world around you, while your music rocks on!
Don't risk having your keys, wallet or phone fall out of your pocket while cycling! This super stylish bicycle saddlebag will make traveling light all that more easier. Perfect for the daily commuter as you can simply attach and detach when needed.
Recently, there has been many gadgets that seek to solve the issue of safety, especially for cycling during low light conditions. These high-quality LED bike wheel lights are available in 7 colours for just $13.99 per tire pack. This allows cyclists to have better visibility during rides and alerts drivers and passers-by of your presence. Apart from that, it is super bright, long-lasting, waterproof and there is also a flashing light mode.
The Lumos helmet comes with built-in LED lights – 10 white LEDs on the front, 38 red LEDs on the back and 11 orange LEDs for each turn signal to ensure that you get noticed on the road while riding. With a solid light and flashing mode, they can last up to 3 – 6 hours respectively. Now you can ride safely while indicating your turning direction and whenever you press the brakes, without needing too many gadgets.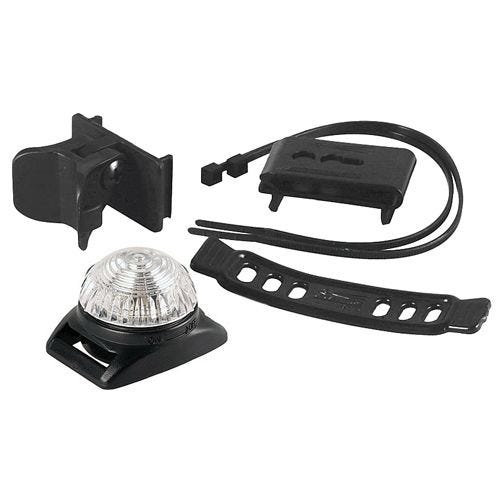 Adventure Lights Guardian is ultra lightweight, reliable and bright LED bike light which can be placed on either the front or the back frame of any bike. Extremely rugged, water-resistant and easy to use, and comes with impact and shock resistant optical dome, unique reverse polarity switching, dual light mode and variable angle bike mount. It produces omnidirectional light with a maximum visibility range of 3 miles (5km) and has run time of up to 100 hours (steady-on mode). Perfect safety solution for any bike user.
This Bicycle Brush Kit contains everything needed to quickly and easily clean the chain, freewheel cogs, chain rings, crank, tire and more!
Cycling saddle bag easily connects under bike top tube with adjustable velcro straps for custom fit providing easy access with zipper closure!
Fix more and worry less with this on-the-go bike kit for all minor bike problems.
Contributors to this article
This post contains affiliate links. Affiliate disclosure: As an Amazon Associate, we may earn commissions from qualifying purchases from Amazon.com and other Amazon websites.