Gamers have the skills you want to have: Focused on the mission and resourceful to get it done, no matter the cost. You can do without their social skills if that bothers you, but there's no denying their passion and skills as impressive things, now, what would a passionate gamer want on a gadget?
Something to make their playing experience even better, of course. From more powerful hardware to something to sit more comfortably in, here are the best gadgets for gamers.
This product was recommended by Phillip Smy from Pocket Sized Hands
The Oculus GO is a portable and cheap VR headset that is perfect for newcomers to virtual reality.
This product was recommended by Kevin Roy from @kbtheroy (Instagram)
"Every games knows the dread when they get that low power alert – whether it's an accessory, controller, or even a console itself – which is why I highly recommend a power bank to ease your woes. Power banks are not just for gamers on the go as they can be quite useful for console gamers at home too. Mobile gamers on their phones or laptop can keep charged on the go. Just grab your power bank, plug your device in and (continue to) game on!
Is your Nintendo Switch or 3DS running out of power? No problem, there's a power bank for that. PS4 controller about to give out? A power bank has got you covered.
Newer power bank can often charge multiple devices, so your phone and device(s) of choice can all benefit from a recharge at the same time. Depending on your selection, some power banks also support quick charging. Be sure to do some research into your power bank and check your device's specifications before purchasing to ensure compatibility. "
This product was recommended by Caleb Backe from Maple Holistics
This headset is a must for gamers. It has a high-performance decoding chip and surround sound effect. The microphone is easily rotatable. The earmuffs are made out of extremely soft leather. It works great with PC and Mac.
This product was recommended by Eric Anderson from El Mejor Trato
Headphones and a confortable gamer chair everyone has. But a true gamer should take care of their PC. The MasterAir Maker keeps your computer cool and you can play as many hours as you want.
This product was recommended by Matalee Reed of BenQ from BenQ
The ZA series mice are comfortable and dynamic for both right-hand and left-hand gamers. The high profile design of the mice gives supports your palm throughout game play to increase competitive edge. Additionally, the ZA Series comes in three different sizes to ensure that you find the perfect fit for your hand.
This product was recommended by Catherine McNally from SatelliteInternet.com
The Razer Turret Lapboard is a must-have for the PC gamer who likes to dabble in console games every now and then. The keyboard-mouse pad combo balances on your lap so you can mash your way through enemy teams with W-A-S-D and a mouse instead of fidgeting with a joystick.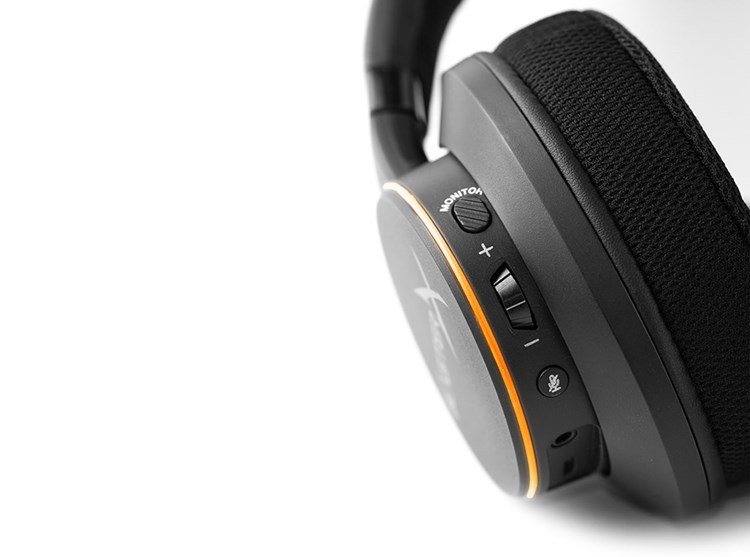 This product was recommended by Creative Labs  from Creative Labs
The Sound BlasterX H6 is a 7.1 USB gaming headset with virtual surround for PS4, Xbox One, Nintendo Switch, and PCs – and it's one of the most comfortable and durable headsets on the market. It also includes Sound Blaster's full suite of powerful audio enhancements, including Scout Mode that lets you hear your enemies before they hear you! The headset also features a detachable noise-reducing ClearComms microphone for in-game voice chat.
This product was recommended by Creative Labs from Creative Labs
The Sound BlasterX G6 works on all major gaming consoles and PCs. This USB device is plug and play and makes ANY game sound better, including Fortnite! Winner of numerous editor's choice awards, the Sound BlasterX G6 is a 7.1 HD Gaming DAC and External USB Sound Card with Xamp Headphone Amplifier for PS4, Xbox One, Nintendo Switch, and PC
This product was recommended by Dary Merckens from Gunner Technology
If you use a controller and your game needs aim, you need a set of thumbsticks from Kontrolfreek. You'll see an immediate improvement in your aiming and you'll start landing way more shots.
Neck Hammock is a simple and portable at-home cervical traction device that alleviates various forms of neck pain. It's perfect for anyone who spends a lot of time staring at screens or sitting at a computer all day with poor posture. Gamers can get rid of that stubborn neck pain in 10 minutes or less and get back into battle.
This product was recommended by Doug Brennan from Digital Addicts
When it comes to PC gaming, nothing is more important than having a solid mouse. And in my experience, the best gaming mouse on the market today is the Logitech G Pro Wireless. In addition to getting pixel-perfect tracking, durable build quality, and a comfortable ambidextrous design, you'll never have to deal with unruly mouse wires again.
This product was recommended by Creative Labs from Creative Labs
"The Sound BlasterX Katana is sleek and elegant, with amazing sound.
The Katana can be effortlessly tucked right under your monitors and TV. With a slim profile shorter than 60mm, this Under Monitor Audio System is drastically superior in form and function to ordinary "gaming soundbars" and is perfect for all setups, especially multi-monitor PC and/or console gaming rigs.
The chassis is exquisitely crafted and reinforced with a sturdy, brushed aluminum panel. This construction minimizes harmful vibrations that reduce clarity. Together with its clean, purposeful lines, the detail-oriented craftsmanship behind the Katana makes it a truly remarkable piece of tech and art."
This post contains affiliate links. Affiliate disclosure: As an Amazon Associate, we may earn commissions from qualifying purchases from Amazon.com and other Amazon websites.