If you are looking for value for money then these are the only 9 Monitors that you need choose from. These monitors provide a high quality experience all whilst keeping costs low. Take a look below for details.
This product was recommended by Rahul Mohanachandran from Kasera
This is a monitor that offers high value at a reasonable price, it has a built-in eye care technology which makes it an ideal monitor for longer working hours while protecting the eyes. The monitor stand has built-in cable management which will help to hide all cables so it all a complete package when it comes to reasonably priced monitors.
---
This product was recommended by Kenny Trinh from Netbooknews
The Acer R240HY is a monitor full HD 1080p display that performs really well when it comes to color accuracy, viewing angles, and design quality…all at an affordable price under $200. The Acer R240HY is an excellent and versatile computer monitor that performs well in-home office, business office, or gaming applications. With its impressive color accuracy and evocative design at an extra-affordable price.
---
This product was recommended by Aaron Barnett from Banging Toolbox
When picking the best value computer monitor you should consider using an LCD or LED TV with a bigger viewing area and mounting it on the wall or hanging it from the ceiling. Installing a TV on your wall and using it as a computer monitor can save space and add functionality to your room, with the ability to rotate and tilt the screen you can achieve perfect viewing position. When picking a great value monitor the extra screen size of a bigger TV will greatly increase work productivity and reduce having to flick from tab to tab. I recommend picking a 32 Inch screen size any bigger and you cant comfortably view everything, any smaller and your not maximizing on the extra viewable screen space, and of course, make sure to get 1080p rather than 720p for clear close viewing.
---
This product was recommended by Hannah Fisher from HVAC Supreme
I like this Dell 23 monitor because it's a good size, not too big and not too small. It's great for personal use. It's also got HDMI and VGA which is useful when you want to connect your laptop to your monitor, which is what I do. It's advertised as having Dell ComfortView and a flicker-free screen, which helps you reduce eye strain when working for long hours.
---
This product was recommended by Jamie Thomson from Rolletna
High quality, flicker-free and blue light filter technologies to minimize eye fatigue.
---
This product was recommended by Eugene Romberg from We Buy Houses in Bay Area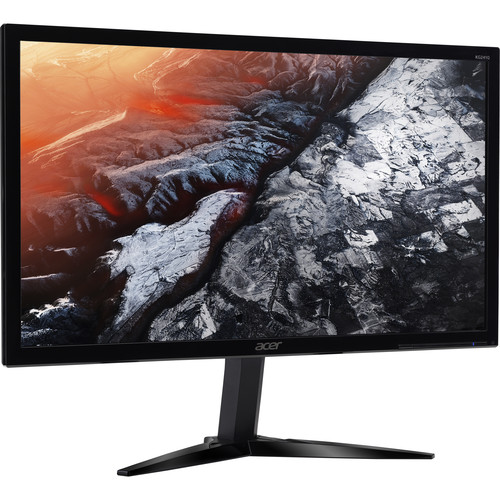 I'm suggesting this product because it is the best monitor I have used in my home office and it is affordable. At $110 and free shipping, its one of the best home officer monitors you can buy if you need something with: HD Resolution (1920 X 1080) Great color and brightness (16.7 Million Colors) Connection to a VESA Stand or Mount It was a great purchase, and at 24 inches, you can see everything for the scope of your projects, invoices, or worksheets.
---
This product was recommended by Jeremy Harrison from Hustle Life Media, Inc.
I've been working at home for more than a year now. As a small business, I don't really need an expensive monitor. Something durable, and with a full HD resolution, should be adequate. The LG 24M47VQ 24-Inch LED-lit Monitor is both plus more. It has screen Split and colour wizard as an added feature. More than enough for a small business like mine.
---
This product was recommended by Werner Jorgensen from Heatxperts
The monitor comes with a 32-inch full HD screen compatible with window 10, display ports, HDMI, and D-SUB. The monitor is best for multiple tasking as it offers more than a 70% large screen area. One can work on spreadsheets, edit documents, watch videos, and view photos all at a time. For supreme workplace versatility, LG 32MA70HY likely has covered it all. Users can optimize personal view preferences with convenient On-Screen controls. It is a VESA-Compatible monitor that gives freedom to hang it on the wall and saves desktop space.
---
This product was recommended by Julian Goldie from JulianGoldie
It would be a lush addition in your office space because of its sleek design and wide viewing angle. A fully adjustable stand provides ergonomic comfort, and 100×100 VESA support makes it a perfect fit for a multi-monitor setup. You can connect to all your peripherals through a wide array of flexible connectivity options. HDMI, DisplayPort, and VGA, and a built-in USB hub featuring 2 USB 2. 0 ports as well as 2 USB 3. 0 ports do not come in ordinary monitors and makes it favorable. Freelancers and other professionals working from home often complain about eye strain. Still, its eye saver mood and flicker-free technology keeps you physically fresh and focused by keeping eye strain at bay. Additionally, a 3-year business warranty works as a cake topping and should be enough to jump you out of the chair.
---
This post contains affiliate links. Affiliate disclosure: As an Amazon Associate, we may earn commissions from qualifying purchases from Amazon.com and other Amazon websites.