Say Hello to tonnes of storage space and even more style with the following list of office desks! It's practically impossible to not find a desk that fits perfectly into your office space in this extensive list, so what's your excuse to not start re-vamping your office today?
This product was recommended by Rupert Pople from Your Smart Home Guide
With a classy yet simplistic look, this well-priced desk has a clean Walnut finish. The L shape allows the user to go easily from one side to the other, perfect for having a laptop and space to do handwritten work. Most appealing about this desk is the modern design and clean look.
---
This product was recommended by Michael Lowe from Car Passionate
A top quality desk with lots of storage. Professionally packaged a when it arrives and very compact so easy to carry into the house. Instructions are as clear as a big Lego set and it took me less than an hour to put it together. It's a sturdy desk that looks more expensive than it actually is. Functional and accessible, I don't know what I would do without it now.
---
This product was recommended by Bridgette Norris from EcoSecretariat
Easy to assemble, even easier on the eye. For kids or adults alike this desk looks the business and delivers plenty of space to store a lot of stuff. Very good quality, clean design and it took us less than 30 minutes to build it. For anyone with limited patience, this desk is a must buy.
---
This product was recommended by Cari Wildasinn from Value City Furniture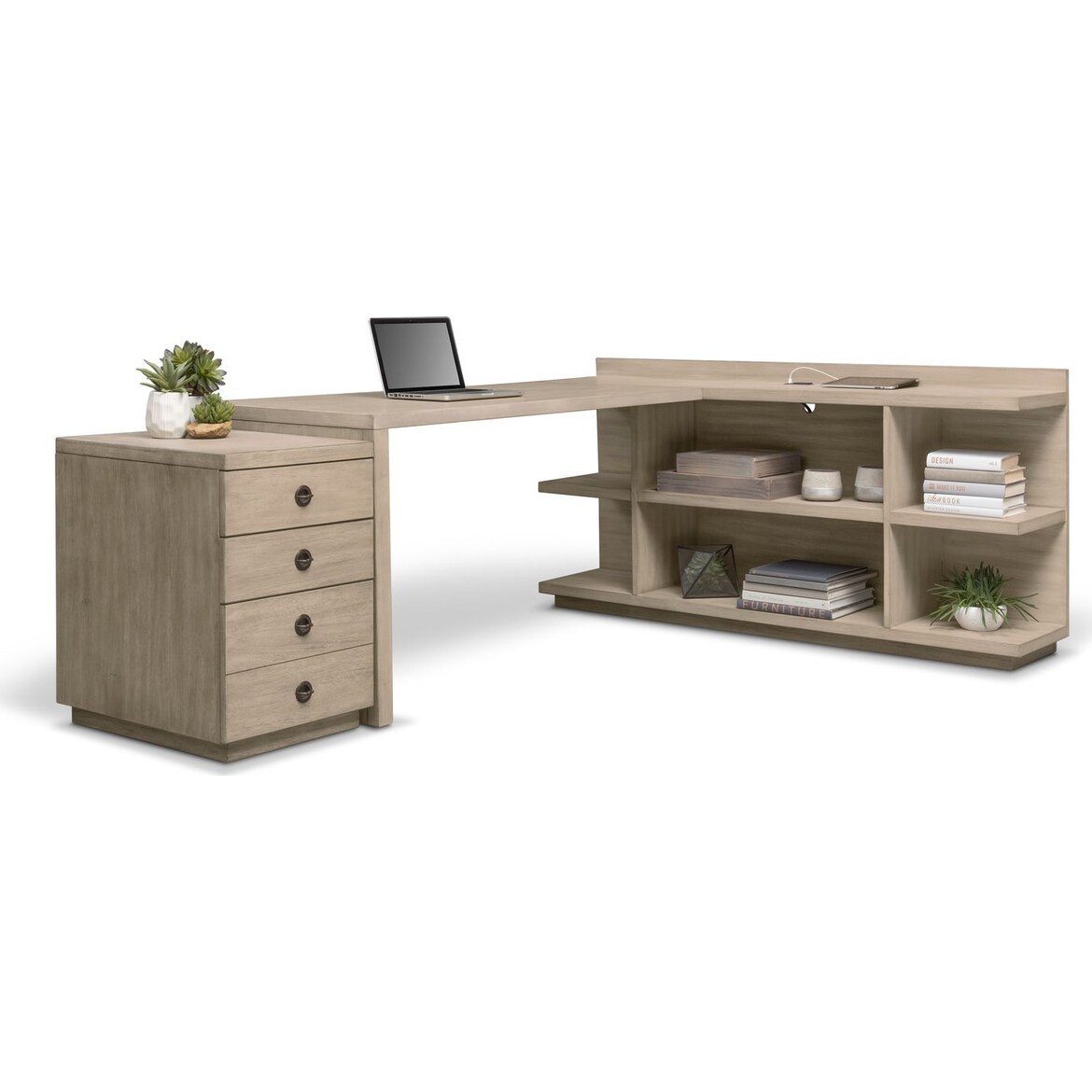 With a spacious work surface and generous storage, the Barclay Desk by Designer Looks is a complete home workstation. A striking gray finish accentuates the natural, rich grains of the acacia wood. The open-shelf designed bookcase offers plenty of storage space for materials, books, files and office electronics, while access to built-in AC and USB outlets add premium convenience. This desk features a hollow core allowing you to place it in a variety of locations. Each drawer is constructed with dovetail joints and ball-bearing extension guides for maximum durability. With a space-saving configuration, this home office solution makes the most of even the smallest office.
---
This product was recommended by Stephanie Lane from SafeSpaceHub
This beautiful and useful desk comes in white, natural and dark taupe. It features an L-shape with plenty of workspace. It also includes a lot of storage area, such as two standard draws, one draw for legal documents, and open cubbies. You can structure the desk however you'd like, as the draws and adjustable shelves can be placed on either side of the desk.
---
This product was recommended by Hamna Amjad from Indoor Champ
Tangkula Modern Home Office Desk is an ideal desk for your workspace because it's well-made, extremely functional, and a great value for your money. It has a sleek design so it can easily fit anywhere in your house. It has one open and two closed drawers, providing sufficient storage space to keep the desktop clutter-free. It has sturdy legs to support the desk steadily. Moreover, its ergonomic height ensures that you can work for hours without exhaustion. Lastly, it has an elegant appearance and a gorgeous mid-century design, making it a stylish addition to your place.
---
This product was recommended by Tiffany Thi from Living Spaces
Create the ultimate work space with the Hollis 3 Piece Desk with Cabinet Piers. The modular design of this set allows for arranging the desk and cabinet piers separately or together. Special features also include open and closed storage, media cutouts to minimize cord clutter and drawers. Minimal, clean lines along with stylish engineered wood and acacia veneers give this desk plenty of contemporary charm.
---
This product was recommended by Tiffany Thi from Living Spaces
The Allen 3 Piece Wall Desk with Piers brings mid-century style and simplicity into the office. This desk features stylish tapered legs, a unique sandblast finish and comes with plenty of open and closed storage for office supplies and displays.
---
This product was recommended by Barbara Nevers from NeoLittle
This is a great desk for a home office if you are looking for an open feel, yet need the ability to store items away as well. For instance, some of the work I do still requires paperwork, and I don't want to let that pile up on top of the workspace. I need things organized. So, the enclosed storage is perfect for those things not aesthetically pleasing, and the open spaces for items you want to display or need continual ease of access to.
---
This product was recommended by Katie Koeppel from National Business Furniture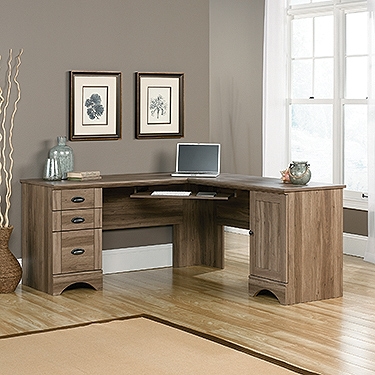 This budget-friendly L-desk from National Business Furniture, a company that helps remote workers set up their spaces, is made from environmentally-friendly engineered wood and ships today. It comes with a pull-out keyboard tray and plenty of storage options that can be assembled on either side, depending on your needs. Its large storage cabinet is designed to hold a CPU tower. It also includes two utility drawers for office supplies, and one file drawer for letter or legal size hanging files.
---
This product was recommended by Shayne Sherman from TechLoris
Not only does the u-shape give you more drawers than a standard or L-shaped desk, but the added hutch also gives you shelves and cabinets. The bottom of the hutch portion even has a rubber buffer so you can easily pass cables under the hutch to keep your space clean. Plus, if you ever do have a client or co-worker in your home, it is a very classy desk.
---
This product was recommended by Alex Knobloch from UberBows
I have this desk at home and it provides the perfect balance of function and design. It has just the right amount of enclosed and exposed storage so everything you need can be placed appropriately. I like to keep a clean, organized workspace, and this desk helps me do just that so I can focus on being productive.
---
This product was recommended by Jared Ebrahimoff from Lavari Jewelers
The glass desktop adds a nice bright ambiance in a dull office space. Since the tempered glass desktop is see-through, you can get your desired item out of the storage without fumbling for the item in the dark.
---
This product was recommended by Jared Ebrahimoff from Lavari Jewelers
This wooden desk is aesthetically pleasing while offering a ton of storage with two deep drawers dedicated to your office whatnots. The desk is perfect for an office space with an industrial or wooden theme.
---
This product was recommended by Rajandeep Kaur from TeacherOn
A sturdy work-desk made up of MDF board and the iron frame, it comes with two large drawers having ample space to keep your documents, files, books, and other belongings. Considering the space availability at home, I chose this one, as it is compact and allows you to keep your computer, books, documents, and other necessities all in one place. It contains a table, desktop shelf, and book-shelf, all in one desk. Keep your laptop or your computer screen at table height or desktop shelf height according to your convenience. I like to keep it at the desktop shelf as it allows you a comfortable sitting posture with the screen at your eye-level. Book-shelf at the bottom will enable you to keep your documents, files near you. It has enough space to keep all your belongings next to you. I personally loved this one because it is pocket-friendly, compact as compared to others in this class, providing spacious drawers, and its cement grey color, giving it a professional look.
---
This product was recommended by Sneha from SkateboardSeek
This desk is sturdy and assembly is smooth compared to most furniture assembly experiences. The finish on the wood is resistant to water, one particular thing about this desk is it has a glass cabinet which is rare for a product of this price, and it adds a nice stylish touch to it. Plenty of space to store everything, plenty of legroom too. There is no lamination at the top of the desk nor any other surface; they simply add a thin paper layer on the top, that looks like laminate. There are too many screws so be prepared to have an electric screwdriver or drill with extra batteries. Through manual one can easily set up the whole furniture but it might take some hours. There's space for laptop, monitor, 2 speakers, mouse pad, and a light on this desk while working and still have plenty of room left over.
---
This post contains affiliate links. Affiliate disclosure: As an Amazon Associate, we may earn commissions from qualifying purchases from Amazon.com and other Amazon websites.