It's a new product in the tech space, the doorbell camera, but it has quickly become an essential part of every modern home. It allows you to check on your front and back door remotely, which is very convenient and reassuring. But there has a been an explosion of different options on the market, so here we have simplified things so you don't have to search around.
ALC Wireless' video doorbell immediately calls your smartphone via the free app whenever anyone steps on your porch, whether the button is pushed or not, letting you see and talk with the visitor as if you were home. It's powered by the existing doorbell wiring and doesn't require any licensed installation. The full HD camera has built-in night vision and built-in, hack-proof memory for recording without monthly fees or contracts.
My selection for best video doorbell is the Skybell Slimline it has a smaller footprint and is more aesthetically appealing than the ring doorbell. Built-in PIR motion detector reduces false alarm events. Alarm.com integration means your doorbell, alarm systems, and home automation can all be integrated into the same app for ease of use.
By far, the most popular video doorbell on the market is the Ring, with it's most basic models offering DIY installation and no long term contracts if you choose. However, avoiding the monthly contract will sacrifice features. Let' assume you have a model with the paid monthly/yearly subscription service. If the motion sensor or doorbell goes off, you will get a notification via the app. The device offers two way talk so you can talk to whomever is at the door. however, note that the audio is temperamental one in a while.
The device offers Infrared night vision allowing 24/7 protection. Ring offers three different power connection options, Solar, battery and hardwired. However, by far, the best solution is t hard wire the device as it's battery life is significantly lower than the stated 12 months listed by the manufacturer. One of the best features of the doorbell is the Neighborhood Watch function.
This feature allows video sharing to other Ring users in the area. This can be helpful if a criminal tries to get into your property, but is a bit milting as the feature only works with other ring users. Overall the device is easy to use and a decent value in home security.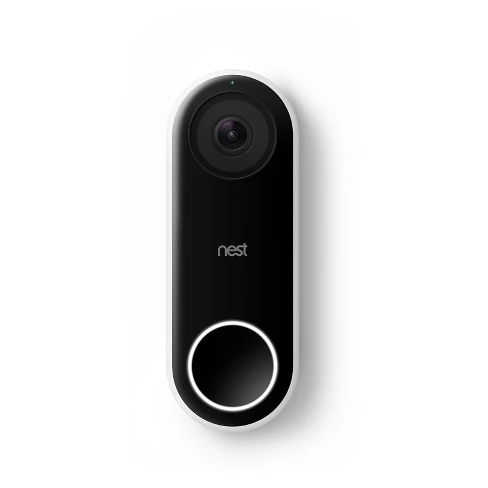 This doorbell camera offers full 1080p HD video, a 160 degree field of view and night videos for protection any time of day. The unit can only be harried, but the advantage is your battery will never run out. The most impressive feature is facial recognition. Video doorbells tell you when there is someone at your front door, but the Nest Hello can tell you who is at your door. It recognizes any face that comes to your door.
Then you can assign names to faces to help the Nest Hello learn the difference between trusted users and complete strangers. The device does come with a monthly subscription, but, like other manufacturers, it opens up more features including up to a 30 day video history, a handy feature is something happens while you're away.
The subscription also allows for continuous recording, time lapse recording and zone setting. The device integrated with Google Home devices, but not Amazon Alexa devices. In fact, it's not even available for purchase on Amazon at all.
This device allows you to watch live video and take pics. The company also offers free video recording storage so you can review your footage later. This does present a problem if someone steals the device itself.
The company offers device replacement if it is stolen as well. That said, the device does include motion sensing is the sensors trip or the bell is rung, you will receive a notification. The device is hardwired so battery life isn't an issue. It offers two-way audio so you can speak with whomever is at your door. Like most models, the device records in 1080p & night vision.
Contributors to this article
This post contains affiliate links. Affiliate disclosure: As an Amazon Associate, we may earn commissions from qualifying purchases from Amazon.com and other Amazon websites.