Reconnecting with mother nature is the central appeal of camping. A solid chance to shed all the noise and worries that living in the city subjects us to and offers us a chance to reflect with clarity on life while looking at the stars and hearing nature's song.
So, it might appear conflicting to bring with your gadgets to a camping trip if that's the thing that you are trying is to get away from. But don't discard them as an option just yet for purely selfish reasons.
Gadgets can greatly help out the process of moving to the camping site more easily, among other things, so you can focus on the experience. It's not like you'll take a portable wireless jumbo-sized speaker. No, these gadgets are here to help you connect with the camping experience, check them out.
The ACE 1 stove is a lightweight, portable cooker that runs on any biomass: cook at your campsite in the woods on pine cones, or gather driftwood twigs at the beach to cook your evening meal. It burns without smoke thanks to a fan, powered by a battery that is charged by a solar panel.
When not using it to cook, or heat water for your tea, you can recharge your smart-phone or pad on its external USB port! It also comes with a solar lantern, so you can light your home in a blackout, or keep your campsite well-illuminated until it's time for star-gazing, or lights-out.
Invented in 2010 to make a Mt Kilimanjaro trek easier, the Scrubba wash bag is the world's smallest washing machine and the ultimate travel and camping essential. This convenient, pocket-sized travel companion allows you to travel lighter and helps to save money, time and water. It's the modern take on the old fashioned washboard, but a lot easier, quicker and way more hygienic than a dirty hotel sink!
When you're on the road, you know you need flexible power support, and nothing beats the eco-friendly nature of solar power! The Maxray 160W Flexible Folding Solar Panel is a handy, portable device that's ideal for camping, caravanning, RVing, and most outdoor activities. It has a foldable design so you can take it wherever you need it. Best of all, there's no DIY required – it's ready to use anywhere, anytime.
Made just for the outdoor camper who also cannot go without their espresso fix, the Handpresso Wild Hybrid is a portable espresso maker that can use both pre-ground coffee beans or pods. Imagine your favorite place in the world. Now, imagine it with a travel mug of fresh espresso in your hand.
The uniquely portable Nomader® Collapsible Water Bottle makes it easy to stay hydrated while camping. Designed with a flexible BPA-free silicone body, the travel-friendly Nomader® bottle can be folded-up or collapsed flat to save on space, yet it's as comfortable to drink from as a hard-sided bottle. This innovative, eco-friendly water bottle features a patented leakproof cap, an ergonomic carry strap, and a wide mouth for easy cleaning. Affordably priced at $24.95 and available in a variety of stylish colors, Nomader® bottles are the perfect camping accessory. As an added bonus, Nomader® water bottles are backed by a lifetime warranty.
The Weber iGrill 2 is an app-connected thermometer that allows you to monitor the doneness of up to four cuts of meat, from beginning to end, and notifies you on your smart device once food has reached the perfect temperature to serve.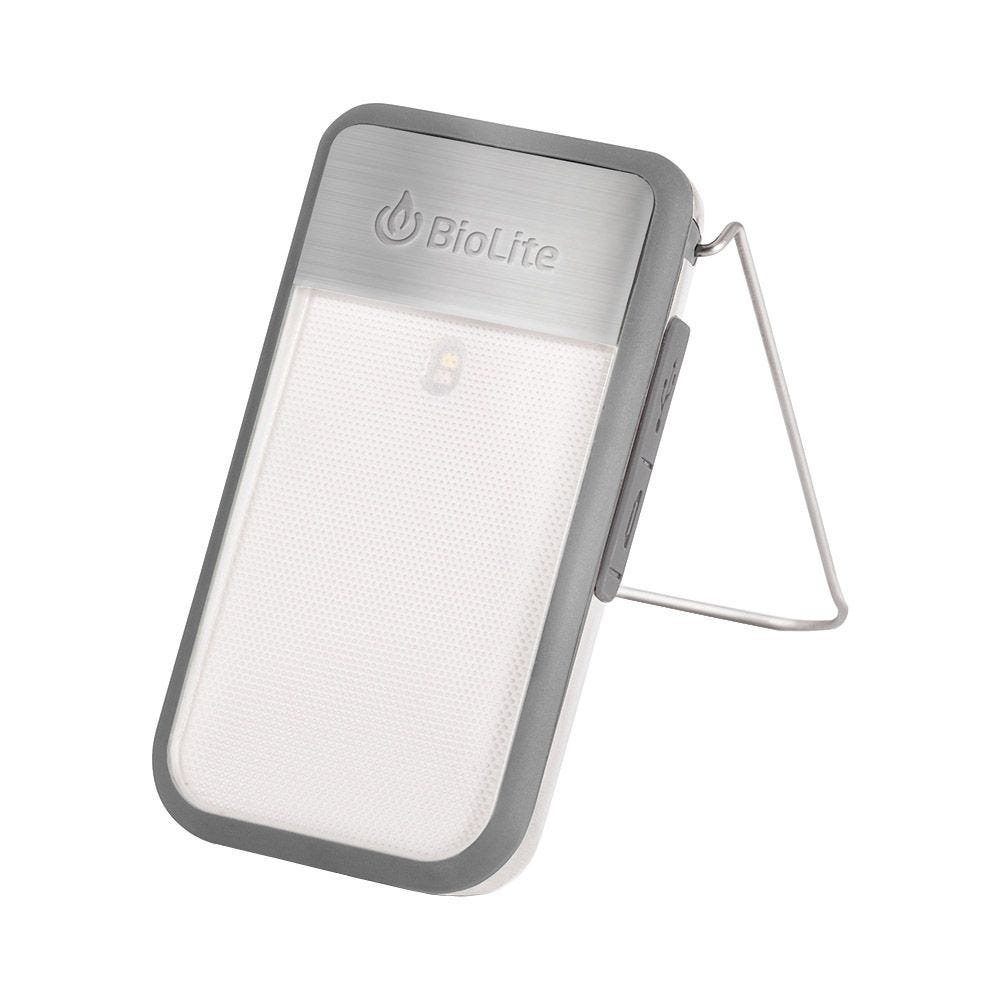 Keep your belongings safe and dry with this hi-vis drybag duffle bag. As versatile as it's durable, it can be used as a wash bag, camera bag, liner or minimalist backpack, and effortlessly folded up when not in use. It features a waterproof rolltop sealing closure, adjustable and removable padded shoulder straps, and hard wearing front handle for a quick grab. Moreover, it comes with Duraflex quick release buckles and compression straps for volume adjustment. Whether your adventure is this bag should be by your side!
This little gadget protects you from bites by creating a 15-foot protection zone around it. It works by the Thermacell fuel cartridge warming a disposable Allethrin-infused mat. This is a synthetic copy of repellent found naturally in the Chrysanthemum flower. It comes with three mats and each one lasts up to 12 hours.
This is the lightest, smallest, and most versatile handheld espresso machine on the market. It allows you to brew your rich, high-quality espresso anywhere. No need for compressed air, electricity, or N2O cartridges. All you need is water and your favorite coffee beans.
The ultra-bright, lightweight headlamp is essential for camping activities that require extra visibility. With a 50-meter beam distance, as well as a tiltable housing to raise or lower the light as needed, the powerful LED will keep your path well-lit during all excursions. The IP54-rated headlamp is safe to use in the event of rain or splashing water and the long-life LED will glow for up to 8 hours before battery replacement is required. When you buy EcoSurvivor products, you're also making a difference – EcoSurvivor donates 50% of its net proceeds to Water4, a charity committed to providing at-risk, indigenous people access to clean water.
The only bluetooth solar powered device that allow you charge your mobile device while you are using it so the fun continues all day long perfect for camping.
Silicone glasses that glow in the dark and are shatter proof approved for all adventures.
This distinctively shaped air couch will help you explore and relax in style whether you are camping, traveling or simply having fun on beach due to its portability (only 2.65 lbs), easy inflation and unique headrest pillow design.
Contributors to this article
This post contains affiliate links. Affiliate disclosure: As an Amazon Associate, we may earn commissions from qualifying purchases from Amazon.com and other Amazon websites.