The desktop needed to go mobile, no question about it, being able to do what you do from your computer anywhere was a necessity that now is more than well fulfilled, yet, some of the more physical and performative limitations of a laptop leave you missing your desktop computer sometimes, doesn't it?
Whatever those limitations might be to you, rest assured that there's a gadget that can truly enhance the way you use your laptop that definitively won't leave you missing anything about your desktop anymore. Check them out.
Who helped make this article possible?
This product was recommended by Natalie Simpson from The Scrubba
This product was recommended by Damon Webb from Talk Technologies
This product was recommended by Zeynep Prens from Galen Leather
This product was recommended by Robin Dela Cruz from AnthroDesk
This product was recommended by Robin Dela Cruz from AnthroDesk
This product was recommended by Robin Dela Cruz from AnthroDesk
This product was recommended by Angela Tuzzo from MRB Public Relations
Don't fret about your tech on the way to work with the help of the Scrubba Air Sleeve. With a soft shell, water resistant exterior and weatherproof wrap around zippers, you won't have to worry about your laptop or tablet being bumped, knocked or dropped as you run to catch the last train home.
If your commute is tiring you out, simply grab out your Air Sleeve, inflate it and you've got a comfortable travel pillow to help you get some shut eye on the way home, or maybe sneak a quick nap on the way to work. Recently awarded first-prize for the Smarter Travel 2018 Editor's Choice Awards Packing Accessories, the air sleeve is perfect product for all the tech professionals out there.
It works precisely the same way as the world's premiere sound booths except in pocket-sized form, guaranteeing absolute voice privacy and a crystal-clear sound signal while simultaneously eliminating all background noise.
Perfect for online gaming or dictating voice notes in busy and crowded situations such as airplanes, commuting, school or any public place!. When using this revolutionary microphone your voice cannot be overheard by others as it simultaneously eliminates all background noise.
Protect your precious laptop with a stylish and hardy handmade leather laptop sleeve. Choose a color to suit your style and as time goes on, the leather with soften and age beautifully. Perfect for a professional work environment or simply for study and personal use.
The AnthroDesk Laptop Mount will let you adjust your laptop/notebook the optimal position.
Lets you keep your desktop clean and organized.
Position your laptop at standing desk height on standard desks, or while your sit stand desk is lowered.
Also capable of being converted to a monitor stand (just add VESA mount) capable of holding up to a 27 monitor.
Get one and get organized and healthy today!
The AnthroDesk Laptop Stand allows you to use your laptop just about anywhere while giving you the flexibility to ensure you use ergonomic positioning.
Portable design sized for 12 to 17 inch laptops, with mouse pad tray.
Fully adjustable with auto-locking joints and high quality aluminium parts.
Supports up to 60 LBS, will not wobble or sway, provides a secure 52cm x 30cm stable platform for your laptop, notebook, tablet, or monitor.
Find the perfect height with the fully adjustable legs from 23 cm to 31 cm.
Use it on your desk, sofa, armchair, bed, floor, couch.
Folds up so you can take it to the home, office, coffee shop, park, cottage – anywhere you want.
For somebody who spends a lot of time at a laptop computer, the perfect chance for them to try standing up, or being more mobile with improved ergonomic posture.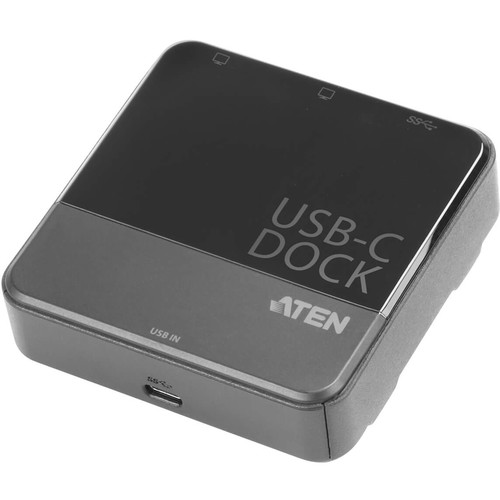 The UH3233 uses USB-C connections to deliver reliable highspeed data transfers. You can connect up to 128 additional peripherals, including Dual HDMI and USB 3.1 Gen1 devices. The UH3233's slim and light design makes it ideal to maximize your workspace and travel with for business on the go.
Features:
USB 3.1 Gen1 compliant
Connects a computer to two HDMI monitors with Dual-View output
Supports 4K (UHD) resolutions via single display output
Supports dual-display video output up to 1920 x 1080 simultaneously
USB 3.1 Gen1 port with data transfer rates up to 5 Gbps
Plug and Play – no drivers or external power adapter needed
This post contains affiliate links. Affiliate disclosure: As an Amazon Associate, we may earn commissions from qualifying purchases from Amazon.com and other Amazon websites.