The number of Mexican travelers spending on outbound travel is set to increase at a compound annual growth rate (CAGR) of 4.43% from US$13.6bn in 2018 to US$16.9bn in 2023, according to GlobalData, a leading data, and analytics company.
GlobalData's latest report: 'Tourism Source Market Insight: Mexico' reveals that this growth is driven by increasing employment opportunities and rising standards within health care and education.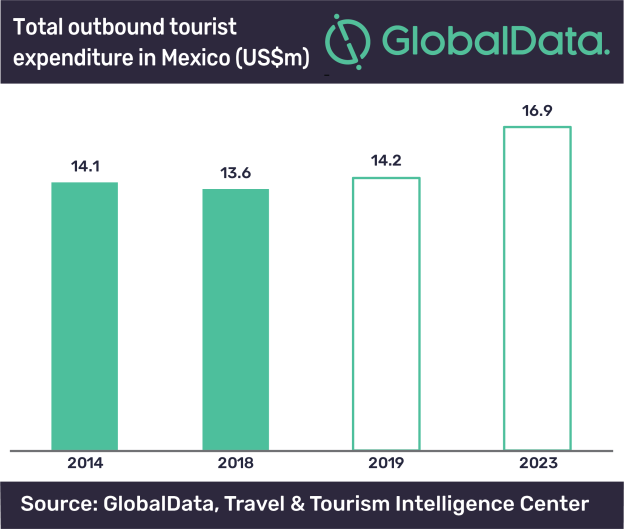 Domestic travel has surged ahead of outbound trips within Mexico with 267 million domestic trips in 2018 compared to only 20.3 million outbound trips. However, all forms of tourism within and out of Mexico have predicted a slowdown in growth over the coming years. On the other hand, total expenditure alongside the average length of stay is increasing.
Johanna Bonhill-Smith, Travel & Tourism Analyst at GlobalData, comments:
"As the education system has improved, the spending power of the Mexican traveler has advanced enabling travelers to not only spend more but increase the length of their stay."
Transport for both domestic (US$32.9bn) and outbound (US$5.1bn) dominated expenditure patterns in 2018. However, GlobalData's report discovered that retail and foodservice are higher spending priorities over entertainment and sightseeing for all forms of travel. Therefore, Destination Management Organisations and local authorities should promote experiences related to both gastronomy and retail opportunities when appealing to Mexican travelers.
Due to Donald Trump's electoral campaign in 2016 and perceived hostility, Mexican travelers began venturing to further destinations. Canada experienced growth in inbound travelers with a 35% increase between 2016 and 2017, and by 20% in 2018 reaching 342,000 inbound Mexican travelers. However, the US will continue to be the main destination for Mexican travelers mainly due to accessibility and proximity.
Bonhill-Smith concludes:
"Established destinations throughout Europe such as Italy, Spain and France have also received an influx of Mexican travelers over previous years. Marketing bodies should tap into this traveler market as their spending power develops and connectivity between destinations continues to rise."
This post contains affiliate links. Affiliate disclosure: As an Amazon Associate, we may earn commissions from qualifying purchases from Amazon.com and other Amazon websites.